Even before Sydney Paige Richardson could hold a pencil in her hand, she was making up stories in her head. Sydney wrote her first book in the second grade! It was about her and her best friends in college [because college was super cool when you were 8] who went on treasure hunts and fought bad guys with their superpowers. Her second-grade teacher was so impressed, she laminated a cover and bound it for Sydney. That will forever be the moment that Sydney dreamed of holding a copy of her own book and placing it on a shelf.
Now all grown up, Sydney's mind still stays in the fantasy world, fashioning worlds where the power of a star can be harnessed and used for time travel, flying is just as easy as walking here on earth – and her best friends are fairies. Her characters are dark and lost individuals, but your love for them will grow when you realize not everything is black and white.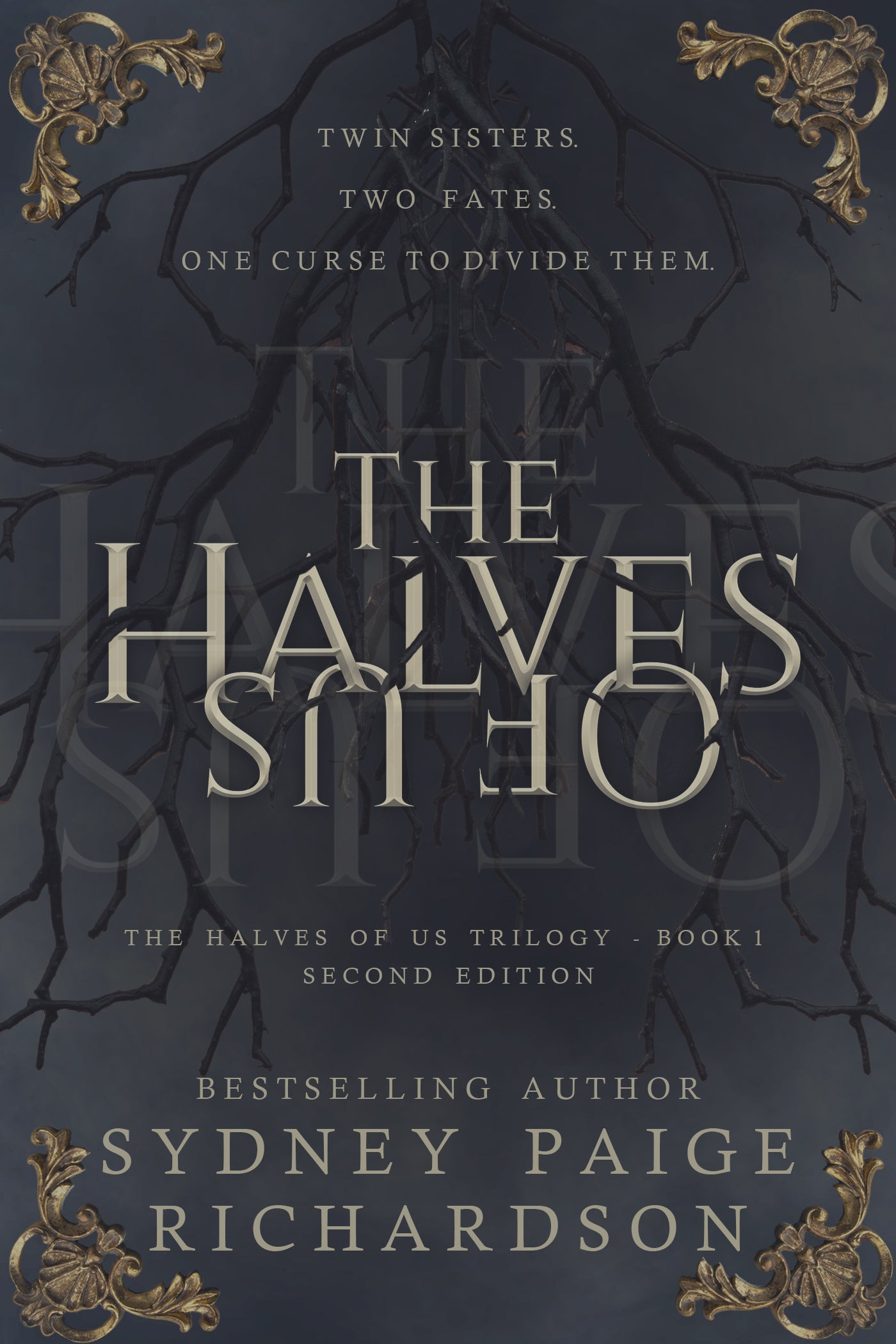 The Halves of Us Series
Sydney Paige Richardson has released three bestselling novels from The Halves of Us series (THE HALVES OF US, THE REFLECTIONS OF US, AND THE SOULS OF US). These first editions were released through another publisher. Sydney has since retained her rights back and plans to release a second edition of The Halves of Us series in February of 2023!
Twin Sisters: one destined to rule, one cursed to destroy.
Some say blood is thicker than water. But for twin sisters, Adie and Aura, their connection runs even deeper than blood.
After investigating a surprise attack carried out by dark souls controlled by the Wicked Willow, an evil residing in a neighboring region, Aura uncovers a family secret: she is the fulfillment of a curse placed upon her family centuries ago.
While Aura is destined to destroy their planet, Thindoral, Adie is fated to follow in their mother's footsteps and become Ruler, but even Adie's path comes with revelations. Dangerous premonitions plague her dreams, all depicting Thindoral's demise at the hand of her sister.
As darkness takes control of her mind, Aura must determine whether defying fate and time is the choice that will seal her destruction, or if self-sacrifice will save all she holds dear. Meanwhile, Adie is faced with an impossible decision: save her sister, or protect their world?
Rhymes Lies and My Impending Demise
Sydney's work in progress (or WIP), RHYMES, LIES, AND MY IMPENDING DEMISE will be going to an editor soon! After that is finalized, Sydney will begin the query process. Learn more about RL&MID below and look at the mock cover she made! Art on the cover is by Caleb Jackson.

RHYMES, LIES, AND MY IMPENDING DEMISE is a stand alone novel with series potential. Readers of Holly Black and Neil Gaimen will enjoy this dark humor series and fresh new take on the Fae. Readers will enjoy this novel where the darkness of Squid Games meets the humor of What We Do in the Shadows.
After finding her boyfriend cheating on her during his first semester at college, 17-year-old
Ellie walks through the stormy streets seeking shelter, only to find herself in a convenience store that is anything but. Run by a gothic guy with a name tag that reads "God", Ellie tumbles into the unknown world of Fae – what humans believed to be angels – after getting struck by lightning while signing her name on a receipt. 
 The lightning strike was the start of a coup against God, and the beginning of a real estate war for the regions of Earth. But the strike did more than that, giving Ellie mysterious powers she doubts anyone would want – the power to copy and paste any item in her hand by saying control c, control v. She joins God and his right-hand gal, Mikala, on battles and tests against God's challenger – including riddles and rhymes, a labyrinth of fear, death pong (a play on 'beer pong'), and Djinn that threatens to break her heart.
But facing off in battle proves to be the least of her worries, with the accidental magical abilities slowly killing her and a battle threatening her family that reveals secrets about her past. Against it all, will the power to copy and paste anything be enough?